Invitation to the 23
th
 Annual Meeting of Korean Society for Psoriasis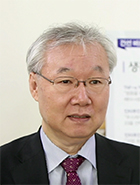 It is my honor to announce and invite you to the 23th annual meeting of Korean Society for Psoriasis (KSP). 

The Korean Society for Psoriasis was established in 1997 to promote research activities and to improve the quality of management for patients with psoriasis in Korea. This year we attain our 23th anniversary. During past years, our society make various commitments and play pivotal role to encourage research activity, to provide education for dermatologists and patients, and to improve public awareness on psoriasis. We also have been doing our best to expend our effort to communicate and share expertise and friendship with other societies/researchers studying on psoriasis. 

To celebrate our 23th anniversary, we prepared special annual meeting to ruminate passed days and to seek the wisdom for coming new era. We invited many of outstanding speakers from Western and Asian countries to give us excellent talks on major topics in psoriasis and the latest outcomes of our researches will be reported and shared. 
 
Please join the meetings and share the joy of making better future in the world of psoriasis.
Hae Jun Song,
President of the Korean Society for Psoriasis